Hello St. Anthony families!! The staff and I are excited and incredibly blessed to get to work at St. Anthony, and to have the opportunity to share and teach about our faith within all of the curricular areas. We greatly appreciate the support from our SAS families to our school programs and teachers. We also value the partnership in the education of your children. Parents are the primary educators who provide guidance and examples of being faithful Christians. At SAS we want to know and build on the individuality of each child and help them to grow in their knowledge and in their faith so they can become responsible, respectful and independent members of the community and Church. Thank you for choosing St. Anthony School!

Many blessings, Ms. Jennifer Raes
DISCOVER THE DIFFERENCE! - CORE AND MORE
St. Anthony offers so much more than a common core aligned curriculum. Check out these five reasons to explore
St. Anthony for your child:

FAITH: Christ is the "principal" of St. Anthony. Learning the Catholic faith and respecting one other is reinforced every day.
COMMUNITY: Our dedicated teachers give each child individualized attention and welcome each family into a warm,
supportive community. This sense of belonging helps students feel more secure when circumstances are beyond their control, allowing them to focus on their education.
PERSONALIZED INSTRUCTION: Whether it's in person or from a distance, our schools provide a caring, creative and quality learning environment personalized for each student. We challenge students to aim higher academically, spiritually and personally.
VALUES: We teach love, care and concern for others as a part of our curriculum. Students in all grades have the opportunity to participate in community service and mission projects. Values of respect, discipline, diligence and compassion are instilled
in all students.
ACCESSIBLE: We offer tuition assistance to help families afford tuition, including a Welcome Tuition Grant for public-school transfer students.


To Request a Tour of the School and/or Meet with the Principal, please call or email:
515-243-1874
Jennifer Raes - Principal





New Catholic Tuition Organization Guidelines!!
CTO, the Catholic Tuition Organization, has new income guidelines this year. It's wonderful because even more families will be able to get financial assistance with tuition! Stop in the school office for the forms to apply. See additional information below:

Announcements
Otra vez, desayuno y almuerzo gratis para el año escolar 2021-2022.
Haga Cliq Aqui
----------------------------------------------------------------------------------------------------------------------
Staff and students are encouraged to wear masks. They must be worn on the bus, as it is public transportation.
Se anima al personal y alumnos de la escuela a usar mascarillas. Los alumnos DEBEN usar sus mascarillas en el bus ya que es transporte público.
If we know of contagious illnesses, such as Covid, Strep or Influenza, and your child was around that student, you will be notified so you can watch for any symptoms.
Si nos enteramos de cualquier enfermedad contagiosa , como Covid, faringitis( strep) o influenza y su alumno estuvo con o cerca de ese estudiante, se lo informaremos para que este pendiente de cualquier síntomas que puedan presentarse.
------------------------------------------------------------------------------------------------------------------
For the donations that will be matched, we are able to match up to $25,000 and that would give us a total of $50,000. Amazing! So far we have raised: $4700, which means matched it totals: $9400. Our deadline is December 31, 2021. Donations can be cash, check (dropped off or mailed in), or Venmo SAS1912. Thank you to the families and businesses that have dropped off cash, checks or sent a Venmo.
Para las donaciones que serán equiparadas por personas que han contribuido, hemos recaudado; $25,000, lo cual significa que al equipararlo, el total es : $50,000. ¡Increible!
Nuestras fecha limite es el 31 de diciembre. Las donaciones pueden ser en efectivo, cheque ( enviado por correo o entregado en la escuela) o Venmo SAS1912.
Gracias a las familias y negocios que han contribuido con efectivo, cheques o por medio de Venmo.
———————————————
Dress code information. It is getting cold. Kids can wear any hoodie, jacket, coat for the outdoors. For indoors, if they want another layer over their dress code shirt here are their options:
SAS royal blue hoodie

SAS royal blue zip up jacket

SAS gray fleece zip up jacket

SAS navy blue fleece zip up jacket

A solid colored sweater from any store. It can be any of our dress code colors: white, light blue, navy blue, red, maroon, black
Información sobre el código de uniforme. Se esta poniendo frio. Los alumnos pueden usar sudaderas con capuchas, chaquetas y abrigos para fuera. Adentro , sobre su camisa de uniforme pueden usar las siguientes opciones:
Sudadera con capucha azul de SAS

Chaqueta azul con ziper/cremallera de SAS

Chaqueta de lana delgada gris de SAS

Chaqueta de lana delgada azul marino de SAS

Un suéter de color solido de cualquier tienda. Puede ser de cualquiera de nuestros colores de uniforme: blanco, Azul claro, Azul marino, rojo, granate, negro.
—-——————————————
If you are employed at Principal Financial Group please contact me or Mary Porter to work on a volunteer group from Principal for the Dollars for Doers program.
Si usted trabaja con el Grupo de Principal Financial, por favor, contáctese conmigo o Mary Porter para trabajar en un grupo de voluntarios de Principal para el programa de Dolars for Doers.
———————————————-
Click
HERE
to see the attached flyer for fall volleyball
Haga cliq aqui
Adjunto encontraran una hoja volantes para las pruebas de voleibol.
———————————————-
Calendar
Wednesday, October 27
-8:30 all school Mass, hosted by 1st grade
Friday, October 29
-Mission Awareness Dressdown Day, students who bring $2.00 or more are able to dress down.
-classroom Halloween parties, hosted by homeroom parents.
Calendario
Miércoles, 27 de octubre
8:30- Misa para toda la iglesia liderada por primer grado
Viernes, 29 de octubre
-Dia de la misión- los alumnos pueden vestir ropa de color si traen $2.00 o mas.
- Fiestas de Halloween por los organizadores de las aulas.
God bless,
Jennifer Raes, Directora de St. Anthony School
Jennifer Raes, Principal St. Anthony School

Have you downloaded the Box Tops App on your phones? When you scan your grocery receipt with your phone's camera you can earn cash for our school! It's convenient and super easy to use. Here is how to set it up:
Download the App
Login with email and create an account
Find St. Anthony's School using zip code 50315
Scan your receipt. That's it!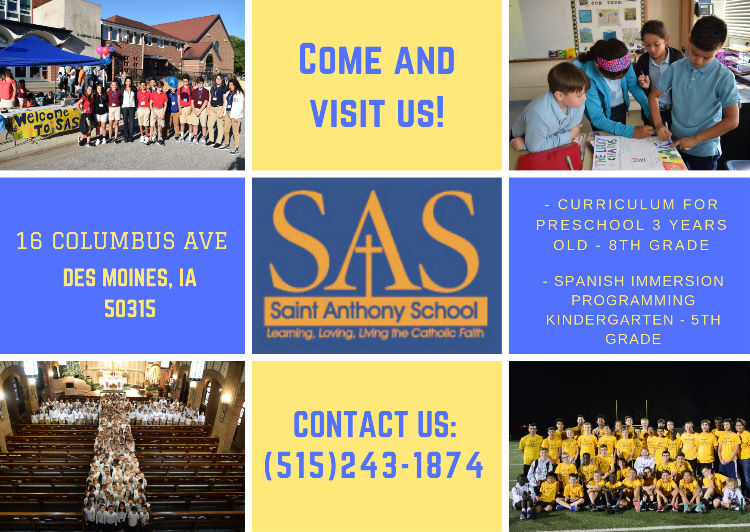 Saint Anthony's School provides a quality education for children in grades from Pre-K through eighth. The school meets or exceeds all state standards and employs only fully accredited teachers. The academic curriculum is infused with religion daily. Students plan and attend Mass on a weekly basis with many other opportunities for spiritual growth and family values. Students have the opportunity to participate in sports programs, local and city academic contests, and service projects.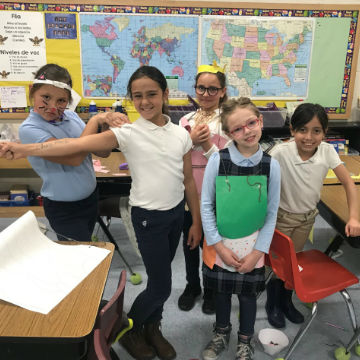 Alumni Campaign
SAS Tuition Assistance
Click Above to Donate, then
Click "SAS Tuition Assistance" Under "Gift Information" options on the right hand side of the giving page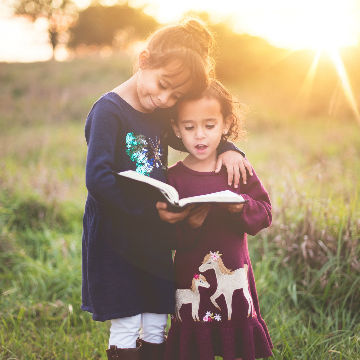 Spanish Immersion

St. Anthony's is one of only 3 Spanish Immersion programs in the state of Iowa.