Health
Please CLICK HERE
to see the attached letter on Covid Protocols and Health from the Superintendent's office.
Por favor, vea la carta adjunta de parte de la oficina de la Superintendente.
Haga cliq aqui
Hello St. Anthony families!! The staff and I are excited and incredibly blessed to get to work at St. Anthony, and to have the opportunity to share and teach about our faith within all of the curricular areas. We greatly appreciate the support from our SAS families to our school programs and teachers. We also value the partnership in the education of your children. Parents are the primary educators who provide guidance and examples of being faithful Christians. At SAS we want to know and build on the individuality of each child and help them to grow in their knowledge and in their faith so they can become responsible, respectful and independent members of the community and Church. Thank you for choosing St. Anthony School!

Many blessings, Ms. Jennifer Raes
We are very excited for the $25 million endowment included in the Diocese of Des Moines IGNITE! Capital Campaign. In an effort to determine distribution of these funds for tuition assistance, all Catholic school parents are asked to complete a
brief survey
to help ensure we equitably increase tuition assistance across the Diocese.
Click Here to Regional Communication
#1
Click Here to see Regional Communication #2
¡Estamos muy emocionados por la donación de $25 millones incluida en IGNITE de la Diócesis de Des Moines! Campaña capitalina. En un esfuerzo por determinar la distribución de estos fondos para la asistencia para la matrícula, se les pide a todos los padres de las escuelas católicas que completen una
breve encuesta
para ayudar a garantizar que aumentemos equitativamente la asistencia para la matrícula en toda la Diócesis.
Ver los siguientes documentos añadidos:

Comunicación Regional (Numero uno)
Comunicación Regional
(número dos)
Opportunity!

If you can host a student from Guatemala for 7 weeks, please let me know. It's an awesome experience for you and them, and really helps immerse them in the English language. They would live with your family and go to school with us each day. Please check out the links below and the quick video from a student that is coming to Iowa. These are very well behaved and well mannered students.

Si usted puede ​patrocinar a un alumno de Guatemala por 7 semanas, por favor, hágamelo saber. Es una experiencia maravillosa para ustedes y ellos y realmente le ayuda a estar inmersos en el idioma inglés. Los alumnos vivirían con su familia y vendrían a la escuela todos los días. Por favor, mire los documentos añadidos y el video de un estudiante que viene a Iowa. Estos son alumnos educados y bien portados.
DISCOVER THE DIFFERENCE! - CORE AND MORE
St. Anthony offers so much more than a common core aligned curriculum. Check out these five reasons to explore
St. Anthony for your child:

FAITH: Christ is the "principal" of St. Anthony. Learning the Catholic faith and respecting one other is reinforced every day.
COMMUNITY: Our dedicated teachers give each child individualized attention and welcome each family into a warm,
supportive community. This sense of belonging helps students feel more secure when circumstances are beyond their control, allowing them to focus on their education.
PERSONALIZED INSTRUCTION: Whether it's in person or from a distance, our schools provide a caring, creative and quality learning environment personalized for each student. We challenge students to aim higher academically, spiritually and personally.
VALUES: We teach love, care and concern for others as a part of our curriculum. Students in all grades have the opportunity to participate in community service and mission projects. Values of respect, discipline, diligence and compassion are instilled
in all students.
ACCESSIBLE: We offer tuition assistance to help families afford tuition, including a Welcome Tuition Grant for public-school transfer students.


To Request a Tour of the School and/or Meet with the Principal, please call or email:





New Catholic Tuition Organization Guidelines!!
CTO, the Catholic Tuition Organization, has new income guidelines this year. It's wonderful because even more families will be able to get financial assistance with tuition! Stop in the school office for the forms to apply. See additional information below:

Dowling Tuition Assistance Information

Families, if you have a student that will be at student at Dowling Catholic next school year,
Please Click Here
to learn about the tuition assistance application.
Familias, si tiene un estudiante que asistirá a Dowling Catholic el próximo año escolar, haga clic en este enlace sobre la solicitud de asistencia de matrícula.
Familias, si ustedes tienen un estudiante que será un estudiante en Dowling el otro año escolar, por favor, pinche el enlace sobre la aplicación para ayuda financiera.haga clic aqui



Monday, May 16/ lunes, 16 de mayo
Middle School to Cubs game
Los alumno de media van al juego de los Cubs
Tuesday, May 17/ martes, 17 de mayo
8th grade class to the Grotto in West Bend with 8th grade from St. Pat's and St. Luke's
6:00 Recital at Park Avenue Christian Church with Mrs. Bonnema and Mrs. Harpin's lesson students
Los alumnos de 8vo grado irán a la Gruta en West Bend con los alumnos de 8vo de St. Pat y St. Luke
6:00pm- un recital en la Iglesia Cristian de Park Avenue con los estudiantes de Mrs. Bonnema y Mrs. Harpin
6:30pm-reunion de la Junta de Educación
Wednesday, May 18/ miércoles, 18 de mayo
Last day for PreK and PreS
All School Mass, 8:30 am, hosted by 7th grade
Spanish Immersion graduation for 5th grade and their families
Ultimo dia para Pre-Kinder y Pre-escolar
8:30am- Misa de toda la escuela liderada por 7mo grado
Graduación del programa de Inmersión al español de 5to grado y sus familias.
Thursday, May 19/ jueves, 19 de mayo
Noon PreS and PreK end of year performance for their families
6:00 Music fundraiser in the Grotto – Tom Buckmiller's band is awesome!! Bring a chair and enjoy!
12:00pm -Presentación de Fin de ano de pre-K y preescolar para sus familias
6:00pm- Concierto de recaudación de fondos-la banda de Tom Buckmiller is increible! Traigan una silla y disfruten.
Friday, May 20/ viernes, 20 de mayo
Fiesta de Rifa de Primavera para la Iglesia de St. Anthony en el salón parroquial -5:30-7:30pm
museo de cera para 8vo grado
Camisas o camisetas de St. Anthony o Dowling con pantalones o pantalones cortos de uniforme.
St. Anthony Church Spring Raffle Party, Parish Hall, 5:30-7:30pm
8th grade wax museum today
St Anthony or Dowling tops can be worn with uniform bottom
General Announcements/anuncios generales


Thank you for the cans and bottles that were dropped off last weekend. For our first time, we are impressed with over 40 full large recycle bags that we filled. We earned a little over $500 to put towards the endowment. Thank you! We will have more can and bottle drives in the future.
Gracias por las latas y las botellas que donaron el fin de semana pasado. Para ser la primera vez, estamos impresionados con las 40 bolsas grandes de reciclaje que llenamos. Hicimos un poco más de $500 para contribuir a nuestra dotación de fondos. ¡Gracias! Tendremos más actividades para recoger latas y botellas en el futuro.
---------------------------------------------------
Bishop's Celebration of Catholic Schools!
In honor of Bishop Joensen's passion for education, we invite you to join us for the inaugural Bishop's Celebration of Catholic Schools on August 27, 2022, in Indianola, Iowa. This event unites the entire Diocese of Des Moines community in celebration of the life-changing impact our faith-centered education has provided for more than 120 years.
During the event, the diocese will recognize special honorees, educators, administrators, and volunteers for their impact on our Catholic schools. Please, click
here
to nominate a Catholic school educator, administrator, or volunteer.
Celebración del Obispo de las Escuelas Católicas!
En honor a la pasión del Obispo Joensen por la educación, le invitamos a unirse a nosotros para la celebración inaugural de las Escuelas Católicas por el Obispo, el 27 de agosto de 2022, en Indianola, Iowa. Este evento une a toda la comunidad de la Diócesis de Des Moines para celebrar el impacto que ha tenido nuestra educación centrada en la fe durante más de 120 años.
Durante el evento, la diócesis reconocerá a los homenajeados especiales, educadores, administradores y voluntarios por su impacto en nuestras escuelas católicas. Por favor, pinche aquí (

here

) para nominar a un educador, administrador o voluntario de la escuelas católicas.
---------------------------------------------------
Below is the link for our online school supply lists. The store will be open through June 12.
SCHOOL SUPPLY LIST
- and enter your school code STA157.
Aquí esta el enlace de nuestra lista de materiales en linea. La tienda estara abierta hasta el 12 de junio.
---------------------------------------------------
We would like to get some cabinets built into some classrooms and hallways. Do any of our parents have these skills? Would you have time this summer to make that happen? We will use the matching donations funds to pay for the labor and supplies.
No gustaría poder tener algunos gabinetes en algunas de nuestras aula y el pasillo. ¿Alguno de ustedes, padres de familia, cuenta con estas habilidades? ¿ Tendrán tiempo este verano para hacerlos? Usaremos el dinero de nuestros fondos de nuestras actividades para pagar los materiales y la mano de obra.
---------------------------------------------------
Registration for the 2022 Catholic Football League season is now open at

www.dmcatholicfootball.com
! The CFL is open to all kids between 1st and 7th grade with the playing designations below
1st/2nd - Flag Football
3rd - Flag Football
4th - Transitional Flag (helmet and pads)
5th - Transitional Flag (helmet and pads)
6th - Tackle Football
7th - Tackle Football
In addition to player registrations, all interested and willing coaches need to register online as well. We are a parent led organization so please consider donating your time to ensure all our kids have a great experience this Fall!
Looking forward to another fantastic season of CFL football!
MATRICULA PARA CFL ( Liga Católica de Futbol Americano)
ATTN PADRES DE K-6TO GRADO
La matricula para la temporada de la Liga católica de futbol americano comienza aquí
www.dmcatholicfootball.com
! La CFL esta abierta para los niños de 1ero a 7mo grado con la las siguientes designaciones :
1ero /2ndo – Futbol de banderín
3ero – Futbol de banderín
4to – Futbol transicional (casco y almohadillas)
5o – Futbol transicional( casco y almohadillas)
6to – Futbol de tacleada
7mo – Futbol de tacleada
Además de las inscripciones de los jugadores, todos los entrenadores interesados y dispuestos a entrenar deben inscribirse en línea también. Somos una organización dirigida por padres, así que, por favor, considere donar su tiempo para asegurar que todos nuestros niños tengan una gran experiencia este otoño.
¡Esperamos otra fantástica temporada de fútbol CFL!
Please be sure kids are dressed for the weather. We have many cold and windy days with kids not wearing enough clothing or coats for outdoors.
Por favor, asegúrense que los niños estén apropiadamente vestidos para el clima. Hemos tenido muchos dias frios y con viento donde los niños no han tenido suficiente ropa ni abrigos para mantenerlos caliente.
---------------------------------------------------
Shorts are ok to wear from April 1 until the end of the school year, but be sure to help your children know what they weather is like when they want to wear them.
Esta bien usar pantalones cortos comenzando el 1 de abril hasta el final de año pero asegúrense de que usan los shorts cuando el clima no esta frio.
---------------------------------------------------
INFORMATION FLYER

- Stamp out Hunger!





INFORMATION FLYER

-
Sensory Friendly Family Inclusion Mass - May 22, 3PM, Cathedral
INFORMATION FLYER
-
Drake Spanish STEM camp/Documento sobre el Campamento de verano de STEM de Drake y SAS
The SI Stem Camp registration due date will be extended to May 25th. If you have not signed your child/children for it, there is still time and spots available.
It is a fun camp, full of fun, learning and all in Spanish.
La fecha para matricularse al Campamento de STEM del Programa de Inmersión al Español ha sido extendida hasta el 25 de Mayo. Si no ha matriculado a su hijo(as)hijos(as), todavía hay tiempo y cupos.

Esto es un campamento lleno de diversión, aprendizaje y todo en español.
WHAT: Benefit concert featuring the band Jimmy the Weasel
When: Thursday, May 19th from 6:00-7:00 PM at St. Anthony's Grotto – bring a chair
There are three ways we'll attempt to raise money:
1) Freewill donation at the Concert. The band is donating their time and everything that comes in will go toward the benefit.
2) Cash Dash. Between May 9th - May 17th. Students are encouraged to bring $ to the classroom teacher. I will provide each teacher an official envelope and I'll collect the $ every other day so you don't have to worry about having the cash in your classroom.
If, collectively, the school raises:
$200 – Sra. Guerra will sing a song on stage with band at the concert
$300 – Mrs. Bonnema will select 2 SAS students to play with the band on a song during the concert!
$400 - Reward idea coming soon
$600 – Mrs. Raes will sing a song with the band…in a costume! 3) Grandparent/Grandfriend Challenge: Every $20 donation made by a grandparent will enter each of their grandchildren's classroom in a drawing for a front row pizza party at the concert! For example if Josie, Bryn, and Freddie's grandparents do a one-time donation of $20….all three children's classrooms will be entered into the drawing. One classroom will be chosen, from all the entries, for special front row seating at the concert with PIZZA! Winner announced Wed, May 18. Grandparents will Venmo me the money (you won't need to collect it).

QUÉ: Concierto benéfico con la banda Jimmy the Weasel
Cuándo: Jueves, 19 de mayo de 6:00-7:00 PM en la gruta de St. Anthony – traigan una silla
Hay tres formas en que recaudaremos dinero:
1) Donación de libre albedrío en el Concierto. La banda está donando su tiempo y todo lo que entra se destinará a beneficio de la escuela.
2) Cash Dash ( Efectivo rápido). Entre el 9 y el 17 de mayo. Se anima a los estudiantes a traer dinero al maestro(a) del aula. Yo le daré a cada maestro un sobre oficial y recogeré el dinero en efectivo cada dos días para que no tengan que preocuparse por tener el efectivo en su aula.
Si, colectivamente, la escuela recauda los siguiente:
$200 – Sra. Guerra cantará una canción en el escenario con la banda en el concierto
$300 – Mrs. Bonnema escogerá 2 alumnos de SAS para tocar una canción con la banda durante el concierto
$400 - El premio se revelará pronto.
$600 – Mrs. Raes cantara una canción con la banda …disfrazada!

3) Reto de abuelos / abuelos: ¡Cada donación de $20 hecha por un abuelo ingresará al aula de cada uno de sus nietos en un sorteo para una fiesta de pizza en primera fila en el concierto! Por ejemplo, si los abuelos de Josie, Bryn y Freddie hacen una donación única de $ 20 ... las tres aulas de los niños se ingresarán en el sorteo. Se elegirá un aula, de entre todas las entradas para asientos especiales en primera fila en el concierto con PIZZA! El ganador será anunciado el miércoles 18 de mayo. Los abuelos me enviaran el dinero por Venmo.
----------------------------------------------------


Jennifer Raes, Directora de St. Anthony School
Jennifer Raes, Principal St. Anthony School

Have you downloaded the Box Tops App on your phones? When you scan your grocery receipt with your phone's camera you can earn cash for our school! It's convenient and super easy to use. Here is how to set it up:
Download the App
Login with email and create an account
Find St. Anthony's School using zip code 50315
Scan your receipt. That's it!
Saint Anthony's School provides a quality education for children in grades from Pre-K through eighth. The school meets or exceeds all state standards and employs only fully accredited teachers. The academic curriculum is infused with religion daily. Students plan and attend Mass on a weekly basis with many other opportunities for spiritual growth and family values. Students have the opportunity to participate in sports programs, local and city academic contests, and service projects.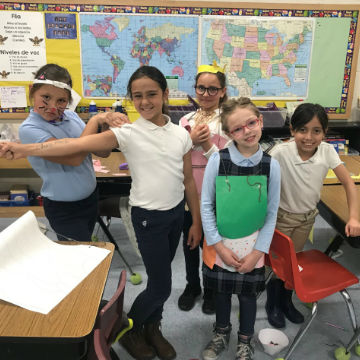 Alumni Campaign
SAS Tuition Assistance
Click Above to Donate, then
Click "SAS Tuition Assistance" Under "Gift Information" options on the right hand side of the giving page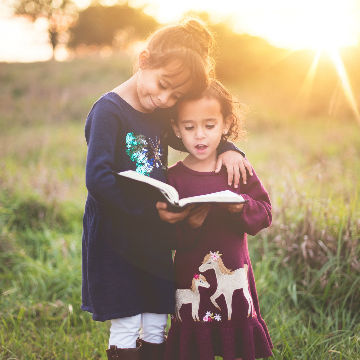 Spanish Immersion

St. Anthony's is one of only 3 Spanish Immersion programs in the state of Iowa.